The Story Circle Network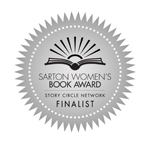 The Story Circle Network is the sponsor of the Sarton Women's Book Award™, granted annually to women's memoir, contemporary and historical fiction, biography, and young adult/new adult fiction, self-published or published by independent and university presses.
"This book is a must-read for grief counselors and social workers, or anyone who works with children. It is illuminating for anyone who would like insight into the grieving process. Profoundly moving, and well-written." read more...